Tonight's dinner plans for a BBQ rotisserie ham got a bit messed up by rain, yes it's raining here in Calgary in January. A bit hard to use the BBQ in the rain.
I figured that I would bake the ham as that is a common way for people to cook hams. The problem that I ran into though is that I do not have a roasting rack yet for the bottom of my roasting pan.
After racking my brain for a few minutes, and even considering using our baking cooling racks which didn't end up fitting, I came up with this idea…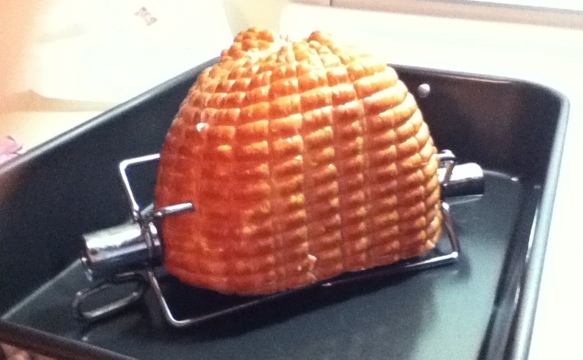 I took the forks from the rotisserie and stuck the in the sides of the ham, leaving the bottom tongs on the forks under the ham so it would be elevated slightly.
It's not elegant, but it works…
The ham is roasting now and I'll be doing an orange glaze on it for the last half hour of roasting.