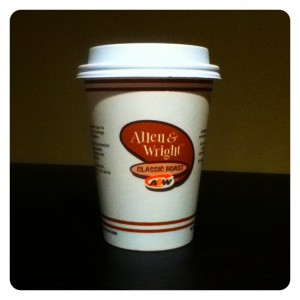 Many of the fast-food outlets including A&W, McDonald's, Burger King, etc. are starting to upgrade the quality of their coffee, finally. I have yet to have one that comes close to what you might get from a speciality coffee place like Starbucks, Second Cup or Tim Hortons, but they're trying…
Yesterday I got some coupons in the mail that included two free coffees from A & W. I don't think that I have tried their coffee before, so this morning on the way home from dropping the kids off at school I thought I try it out.
My first thoughts when I got the coffee into the car was what that it actually smelt quite good! That is of course a good first step towards a good cup of coffee.
When I got home I had a chance to try to coffee and to be honest, it didn't live up to the smell. The coffee wasn't as hot as I would like and since I have my black with no sugar I know that it wasn't the milk that cooled it off.
Also, the coffee was bland. The smell was stronger than the taste. I wouldn't say that I hate the coffee, but I also wouldn't say that I like the coffee. If I got it for free I would drink it, but it's not a coffee I would pay for.
The best "fast food" coffee that I think you can get is still from good old Tim Hortons. Surprisingly the second best fast food coffee I think is McDonald's, especially when they give it away for free.
A & W Coffee Nutritional Information
One thing that I find interesting about A & W coffee is the nutritional information: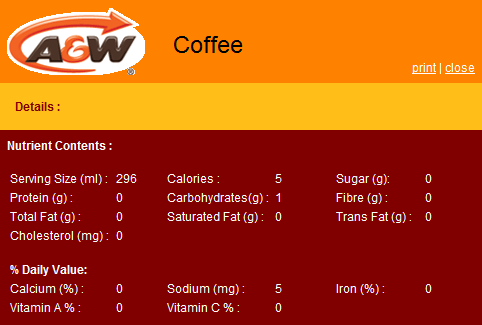 Most coffee that I've seen has a calorie count of 0, but A & W coffee has 5 calories in it. By contrast a Tim Horton's coffee has 0 calories. I have also never seen black coffee with no sugar that has carbohydrates or sodium in it! This makes me suspect that it's not just ground coffee that I'm buying, but that they have added other "flavour enhancers" or junk to the coffee.
I have one more free coffee coupon that I'll probably use, but A & W coffee isn't something that I can see myself paying for…