Previously I have written up the damper recipe that I usually use. I've experimented a bit with that base recipe by adding different herbs to it, but this cheese, bacon and chives damper recipe by the Aussie Griller looks delicious.
Here is how to make it:
Ingredients:
2 cups plain white flour
4 tsp baking powder
60g melted butter
200ml milk
1/2 tsp salt
Handful diced bacon
Handful shredded cheddar cheese
2 tbs chopped chives
Directions:
Preheat oven to 200C (400F)
Mix all the ingredients together in a bowl
Kneed the dough to form a ball for about 5 – 8 minutes until it's nice and firm
Flatten the dough ball, brush on a bit of milk and dust it.
Place in on a floured baking tray.
Place it in the oven for 25 – 30 minutes.
Enjoy!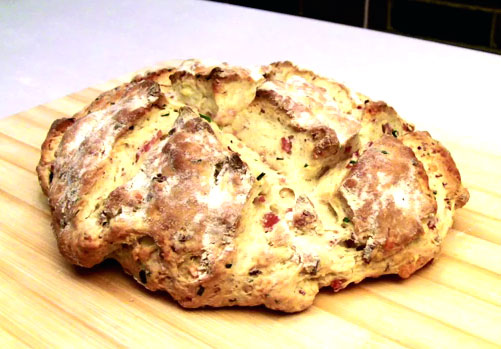 I can't wait to try this one and I have subscribed to the Aussie Griller YouTube channel as well so that I can try out more of their great recipes.