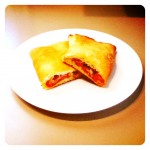 Tonight we tried something a bit different and decided to make our own Pizza Pops.
The good thing about this recipe is that it is very easy to make and is a good meal to be made with the kids. My kids were all for it tonight, until their eight-week old brother was brought out for some play time. I very quickly lost my co-cooks.
So, back to the recipe…
Ingredients:
2 x Packs of refrigerated pizza dough (I used Pillsbury pizza dough crust as it was on sale)
1 x large grated carrot
4 x slices of ham, cut into small pieces
1 x small can pineapple chunks
1 x cup grated cheese
4 x tablespoons BBQ or pasta / pizza sauce
Instructions:
Preheat the oven to 400F (375F if convection)
Unroll the pizza crust dough on a floured surface and roll them flat
Cut each of the the pizza crust dough in half
Put 1/4 of each of the ingredients in each half of the cut pizza dough
Fold the four halves in half and press down on the three edges to seal the pockets
Place the four pizza pockets on a non-stick baking tray
Put the baking tray in the oven for 12 – 15 minutes, until the crust is baked
And that's it. Only about 30-minutes from start to finish for this recipe.
Each pizza pocket feeds two kids or one adult. This recipe has very quickly become a new family favourite.
I think that next time I might try this recipe from Pillsbury.