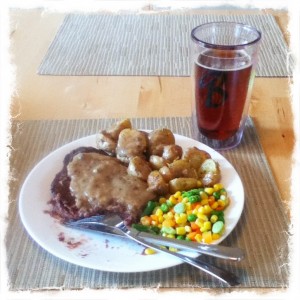 We were blessed with a bunch of cuts of elk from a friend at church. As I haven't cooked much game meat before I have been a bit apprehensive to cook it, even though every time I have tried it has turned out pretty well.
Tonight I decided to have a go at making Country-Fried Elk steak for dinner. I followed this recipe and it came out fantastic!
I also did some roast mini-potato, steamed vegetable and some gravy that I made from the drippings. The recipe I linked to called for "milk gravy", but I just made my usual meet gravy and it came out a treat.
Next time I get some elk stakes I am definitely doing this one again …